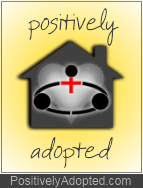 Help spread the truth about positive adoption by sharing this site badge on your blog or website.
Every time one person is educated about the promise and potential of kids with HIV, the stigma is gradually erased and children in need are given a chance at a family.

Please copy the code (above) and add it to an HTML gadget on your blog or website!
Jill writes:
"Your website, Positively Adopted, was absolutely instrumental in helping us decide to adopt a child with HIV!"